5/18 What A Pair benefit fighting breast cancer...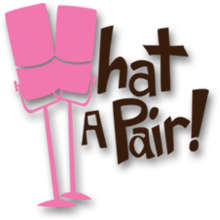 10th Anniversary
Benefit Concert
Saturday, May 31, 2014 Red Carpet • Concert
Dinner and After-Party • Auction
The What A Pair! 10th Anniversary Benefit Concert will be held on Saturday, May 31, 2014 Saban Theatre in Beverly Hills...
A Broadway-style production of celebrity duets, benefiting Cedars-Sinai's breast cancer research and education programs at the Samuel Oschin Comprehensive Cancer Institute

The strongest and most successful duets weave complementary voices together — and, in partnership, What A Pair! and Cedars-Sinai hit all the right notes. One is a collaboration of world-class performing artists focused on supporting revolutionary medicine; the other is a global force in medical innovation, working at the forefront of research and clinical care to pioneer discoveries and save patients' lives.
Cedars-Sinai is breaking ground with a comprehensive approach to breast cancer research and education by focusing on targeted strategies for prevention, diagnosis, risk assessment, and treatment of breast cancer. Together, physicians and scientists collaborate to pursue translational research that promotes discovery and saves lives. Additionally, they come together to educate the next generation of breast care professionals. Funds raised by What A Pair! have led to less invasive breast surgery, a reduction in side effects, breast-conserving techniques, improvement in patients' quality of life as well as identification of targeted genes to more effectively fight the most aggressive and difficult-to-treat cancers. The clinical home for breast cancer care at Cedars-Sinai is the Saul and Joyce Brandman Breast Center—A Project of Women's Guild, co-directed by Armando E. Giuliano, MD, and Edward H. Phillips, MD.
Thanks to our amazing guests actress/singer/What A Pair regular Joely Fisher AND What A Pair's found co-producer Jody Price!!
http://giving.cedars-sinai.edu/what-a-pair/home