The Dodgers Game July 21st Benefits Those With CRPS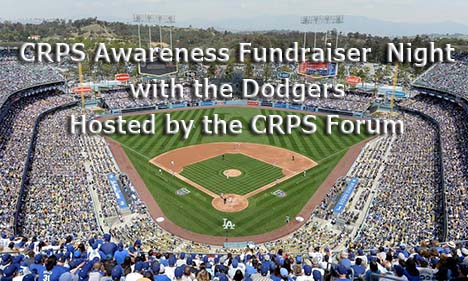 We're excited to present the first ever Major League Baseball CRPS (Complex Regional Pain Syndrome) Awareness Night & Fundraiser at Dodger Stadium! Watch the Los Angeles Dodgers take on the Atlanta Braves on Friday, July 21st, 2017 at 7:10 pm and end the night with a fireworks show!
We hope we can make this an annual event for our community and appreciate your support. We would love to make this event bigger and better every year. Next year we hope someone from our community can throw out the first pitch!
Please try to wear something orange on game day! We will have volunteers on hand to help things go as smoothly as possible for everyone. Please make sure to fill out the registration form before purchasing tickets. Proceeds from the ticket sales will benefit RSDSA. Thank you, in advance, for your support and we can't wait to see you at Dodger Stadium! Go Dodgers!!!!!
Tickets are $50 per person. Seating is located in the preferred loge box value section. Purchase tickets early to ensure you will be seated with our group. We are giving away CRPS Awareness rally towels sponsored by California Pain Medicine Center (www.californiapainmedicinecenter.com) & our CRPS Awareness temporary tattoos to the first 100 ticket purchasers. Ticket sales will conclude on Wednesday, June 28th, 2017 at 12 pm PST. Tickets will be distributed electronically via e-mail on Friday, June 30th, 2017. All tickets sales are final.
Thanks to my guest Roxanne Dawn...CEO/Founder of CRPS Forum...tweet her @Roxanne Dawnn Attend the first ever MLB game & CRPS Awareness Night/Fundraiser @ Dodger Stadium on Friday, July 21st!