'Friends' Famous Central Perk Sofa Is Headed Around The World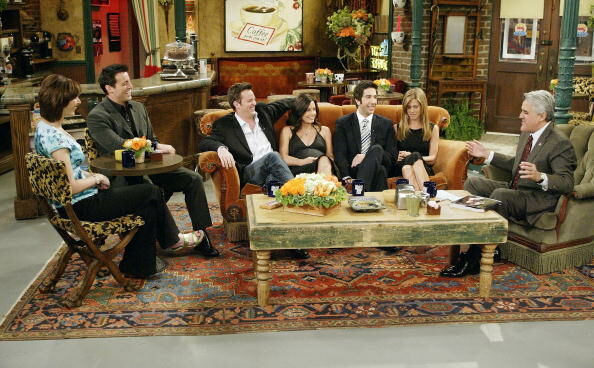 The iconic 'Friends' sofa is officially headed on a world tour.
A replica is reportedly going to be sent to locations around the world. The first stop is the Empire State Building in New York City.
It's all in celebration of the show's 25th anniversary.
Check out the full list of locations where you can find the famous couch below:
The Empire State Building (Observation Deck) – New York, USA (Sept. 21–22)
US Bank Tower (OUE Skyspace LA) – Los Angeles, USA (Sept. 16–22)
Maggie Daley Park – Chicago, USA (Sept. 21)
Willis Tower (Observation Deck) – Chicago, USA (Sept. 20–22)
Jackson Square – New Orleans, USA (Sept. 19–22)
Klyde Warren Park – Dallas, USA (Sept. 13–29)
Reunion Tower (Observation Deck) – Dallas, USA (Sept. 16–30)
The London Eye – London, UK (Sept. 22)
Abbey Road – London, UK
Ross Fountain/Edinburgh Castle – Edinburgh, UK (Sept. 16)
Cardiff Castle – Cardiff, UK (Sept. 19)
Tower Bridge (Potters Field) – London, UK (Sept. 20)
Jardin du Palais Royal – Paris, France (Sept. 12)
Triton Fountain (Piazza Barberini) – Rome, Italy (Sept. 21–22)
Lucca Comics & Games Fan Event – Lucca, Italy (Oct.30–Nov. 3)
Royal Palace – Madrid, Spain (Oct.1–Nov.30)
Berlin Sony Center – Berlin, Germany (Sept. 21–22)
FACTS (Flanders Expo) – Ghent, Belgium (Oct. 19)
The Burj Khalifa – Dubai, UAE (Sept. 16–Oct.16)
Bondi Beach – Sydney, Australia (Aug. 28)
Comic Con Africa – Johannesburg, South Africa (Sept. 21–24)
Loft Ginza – Tokyo, Japan (Sept. 18–24)

Dave Styles
Dave Styles is an on air host at 104.3 MYFM from 3pm-7pm! KBIG FM Los Angeles' More Music, More Variety radio station
Read more