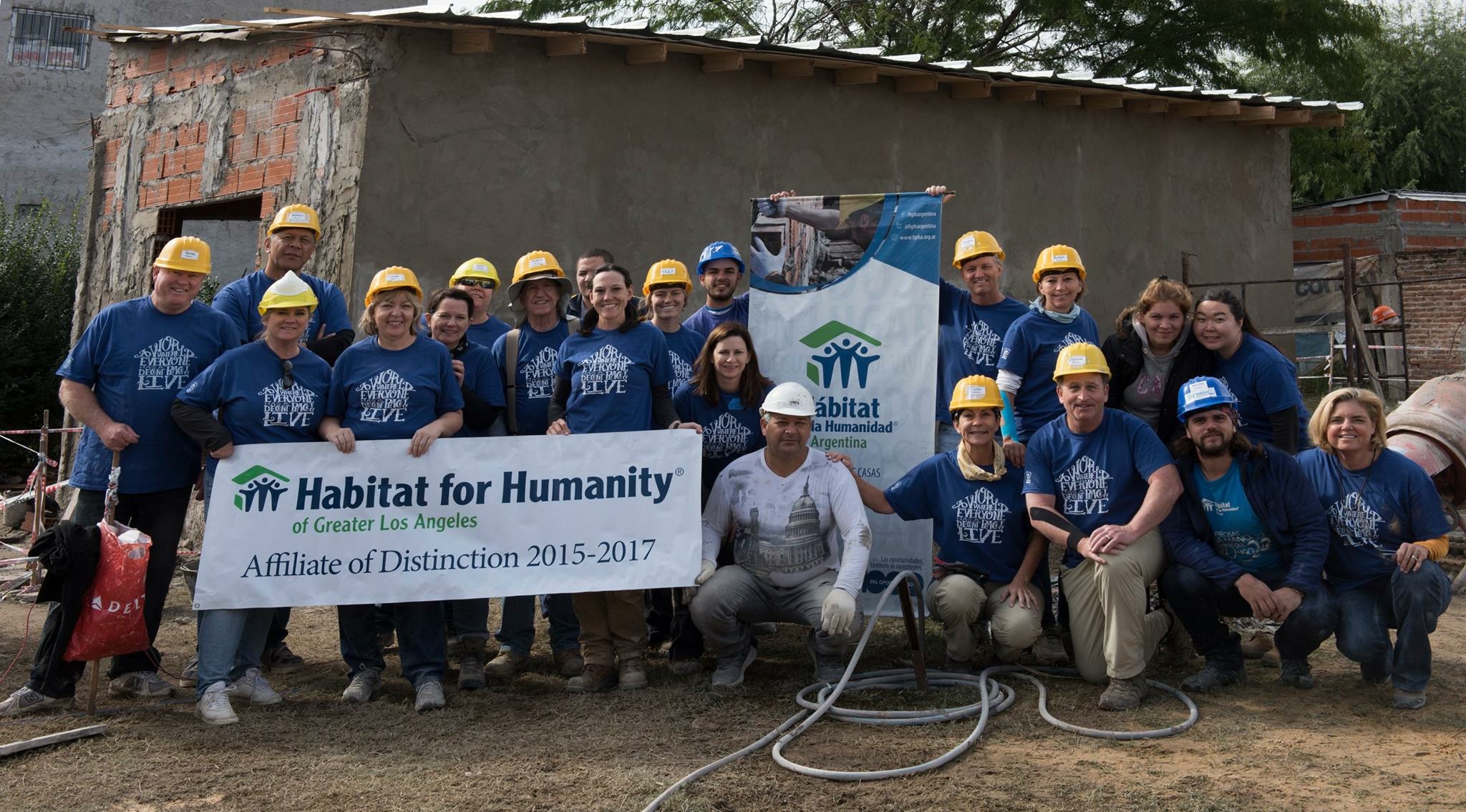 The overwhelming need for housing in our communities have provided Habitat For Humanity Greater Los Angeles (Habitat LA) with a unique opportunity to change lives in our neighborhoods.
Los Angeles ranks as one of the least affordable housing areas in the U.S. and yet Habitat for Humanity is one of the few – if not only – affordable homeownership programs that serves families and individuals earning 30-80% of the median family income. Cost burden and overcrowding are the most serious problems experienced by very low-income area Southern California residents.
Working with volunteers, families and individuals, corporations, congregations and donors we are able to tackle this important housing issue throughout greater Los Angeles. We are dedicated to making homeownership possible for low-income, hardworking families and individuals.
We offer a hand up, not a hand out
With the support of community partners, donors and volunteers, Habitat LA constructs new or renovates existing homes alongside Habitat Partner Homebuyers. In addition to a down payment and monthly mortgage payments, homeowners invest Sweat Equity hours building their future Habitat home and the homes of other Habitat Homebuyers.
Habitat homes are sold to Partner Homebuyers at no profit and financed with affordable loans.
Since 1990, we have built, rehabilitated and repaired more than 750 houses in neighborhoods all across greater Los Angeles. Shelter is a basic human need and Habitat for Humanity strives to achieve its goal of eliminating substandard housing by making decent, sustainable and affordable housing a reality for all.
Habitat Hammers Back

Our hearts have been heavy as we have seen Hurricane Harvey and Hurricane Irma wreak havoc on southeast Texas, the Louisiana coast, Florida and the Caribbean. More than 30 of our own Habitat affiliates have been personally touched by the storms. We too have watched helplessly as residents and rescuers have navigated the catastrophic damage, but inspired simultaneously by the selfless acts of neighbors helping neighbors through the chaos. We know the effects of these storms will take years to recover from but Habitat for Humanity has 20+ years of experience in disaster relief work and we are ready and equipped to lead a comprehensive, collaborative rebuilding effort that will include clean-up, repairs and new construction once the waters have receded and damage assessment has been done.
We have set up a donation page through Habitat LA and can ensure that every dollar you donate will directly support Hurricane rebuilding efforts.
To make a donation:• Click HEREOR• Text HARVEYREBUILD with dollar amount to 41444. HARVEYREBUILD must appear first in the text message.
Thank you for investing in recovery work as well as the people and communities in the affected areas. Watch Habitat for Humanity International CEO, Jonathan Reckford, discuss Habitat's disaster relief strategy HERE. We also ask that you join us in praying for all of the Hurricane victims.
Volunteer
Volunteers are the heart of Habitat for Humanity of Greater Los Angeles (Habitat LA). Thousands of volunteers lend a hand to build, renovate and repair homes with us each year. Habitat LA brings together individual and group volunteers to ensure that everyone can live in decent, affordable and sustainable housing. We invite you to help on our construction sites, in our ReStores, during our special events or behind the scenes in our offices!
Habitat LA is proud to host the 2017 Los Angeles Builders Ball® to honor our counterparts in the building and real estate industries for their commitment to Building a Greater Los Angeles. The event will be held on Thursday, September 28, 2017 at the Beverly Hilton Hotel. Proceeds will support Habitat LA initiatives to revitalize neighborhoods.
Past honorees include Earvin "Magic" Johnson, Trammell Crow, Arnold Schwarzenegger, Maria Shriver, and Delta Air Lines.
For sponsorship information, contact Helen Dosta, Director of Development at hdosta@habitatla.org or (424) 246-3653.
Thanks to my guest H4H CEO Erin Rank...volunteer, apply for a home, get the address for the ReStores and or buy a ticket to their next fundraiser HERE: http://www.habitatla.org/