Every 80 seconds a woman dies of heart disease and stroke; 80 percent may be prevented
You Can Take 3 actions to fight cardiovascular disease
To think of heart disease and stroke as America's leading killers of women is alarming, until you factor in the good news: 80 percent of cardiovascular diseases may be prevented with awareness and action.
In celebration of Heart Month, the American Heart Association (AHA) urges women to take three actions to improve their heart and brain health.
Understand your family history. Find out if any of your immediate family members have had a heart attack or stroke, or has high blood pressure, high cholesterol or diabetes. Equipped with this vital information, you and your doctor can begin taking steps to manage your risk factors and prevent the same conditions that might have shortened the lives of previous generations in your family.
Know your numbers. Schedule an appointment with your healthcare provider to get the following numbers checked: total cholesterol, HDL (good) cholesterol, blood pressure, blood sugar and body mass index (BMI). These numbers are important because they determine one's risk of developing cardiovascular disease by atherosclerosis or hardening of the arteries, which includes conditions like angina (chest pain), heart attack, stroke (caused by blood clots) and peripheral artery disease (PAD).
Make simple lifestyle changes. Small steps can make a big difference when it comes to heart and brain health. You don't have to do it all at once, but adding more and more healthy habits to your daily routine will start you on the right path. Here are a few tips:
Move more every day and find forms of exercise that you enjoy and will stick to. The AHA recommends getting at least 30 minutes of moderate physical activity on most or all days of the week. You can start by making small choices throughout the day, like taking the stairs instead of the elevator, or choosing the furthest parking spot and walking to your destination.

Eat better, consuming a wide variety of nutritious foods from each of the basic food groups. Eat at least five servings of fruits and vegetables every day, at least two servings of fish per week and three 1-oz servings of fiber-rich whole grains daily. Limit saturated fat, trans fat, sodium, red meat, sweets and sugar-sweetened beverages.

If you smoke, quit. Smoking is the most important preventable cause of premature death in the United States. As soon as you stop smoking, your risk of heart disease and stroke starts to drop. Quit-smoking programs are available through hospitals, and many states have hotlines with trained staff to help.
The American Heart Association also recommends learning the warning signs of a heart attack and stroke.
Chest pain and radiating discomfort in the left arm are common heart attack symptoms for both men and women. Women, however, may experience other warning signs, including shortness of breath, back or jaw pain and nausea. Call 9-1-1 immediately at the first sign of symptoms.
Remember the acronym F.A.S.T. for the warning signs of stroke: Face drooping, Arm weakness and Speech difficulty. When you see these symptoms, it's Time to call 9-1-1.
The American Heart Association's mission is building healthier lives, free of heart disease, stroke and other cardiovascular diseases. Go Red For Women is the AHA's national movement to end heart disease and stroke in women. It advocates for more research and swifter action for women's heart health. The campaign is nationally sponsored by Macy's and CVS Health, with additional support from local sponsors Union Bank and Huntington Hospital.
Join us in the fight against women's heart disease: Donate now to Go Red For Women!
Click here to buy tickets to Rock the Red!
Support Go Red For Women
Go Red For Women is the American Heart Association's national movement to increase awareness and educate women about the risks of heart disease and stroke. Over the last 10 years, we have reduced death in women by more than 30 percent. Yet, even with this incredible progress, 1 in 3 women still die of heart disease--more than all forms of cancer combined. Fortunately, we can change that because 80 percent of cardiac and stroke events may be prevented with education and healthy lifestyle choices.
We know that to save lives and build healthier communities, we must start at the local level. We invite you to join the Go Red For Women movement and the fight against heart disease and stroke in women by becoming a donor or sponsor today.
Together, we can reach, empower, and inspire the 5 million women in Los Angeles to take action and improve their heart health.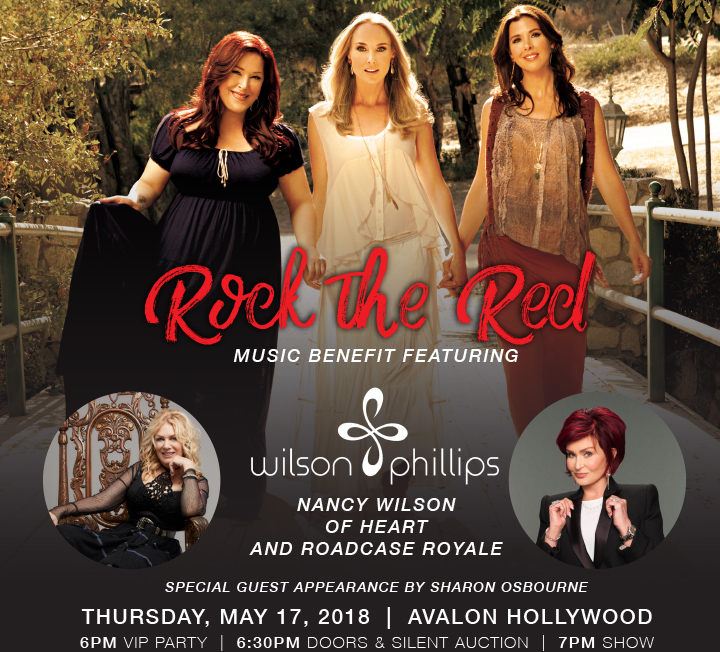 Rock the Red Music Benefit
May 17, 2018 | AVALON Hollywood
Supporting women in Los Angeles has never been more important. Join us in the fight against the #1 killer of women: heart disease and stroke. The evening features a VIP Party, silent auction, special guests, and more!
All proceeds will support lifesaving work in our local community.
Ticket and VIP Sponsorship Packages now available!
Balcony-level general admission tickets start at $100

VIP sponsorship packages start at $2k for a table of 4
All VIP tickets include:
Premium floor seating

Invitation to an exclusive VIP Pre-Party

Unlimited food and beverages throughout the evening

Event sponsorships and activations also available
Click here to register now or contact Senior Development Director Laura Baker at 213.291.7051 orLaura.Baker@heart.org for more information.
Concert producer services donated by Geanie Zelig-Galinson.
How you can help:
Make a Donation

Please open your heart and make a donation today. Donations of all sizes make a difference. Your donation honors the women we care about--wives, mothers, daughters, sisters, friends, and colleagues--and will support lifesaving programs and research that will make healthy futures for women a reality. We truly appreciate your generous support.

Connect with Inspired Women & Men

With a gift of $1,000 or above, you will join Inspired Women & Men and receive invitations to private Go Red For Women events throughout the year--including wellness activities, Q&A sessions with leading doctors and researchers, and "shop and sip" events with luxury retailers.

Join Circle of Red

With a gift of $5,000 or more, you will join our Circle of Red annual giving society and receive exclusive donor benefits throughout the year--including recognition in LA Magazine and 2 VIP tickets to a 2018 Go Red For Women event of your choice.

Become a Sponsor

Corporate sponsorships begin at $10,000 and are customizable based on sponsor needs and interests. If you are interested in sponsoring the Go Red for Women movement in Los Angeles, please contact Senior Director Laura Baker at 213.291.7051 or laura.baker@heart.org.

Attend an Event

Join us throughout the year and meet the women who make it all possible! From our Rock the Red music benefit to our Signature Luncheon, there are plenty to choose from! Click here for a list of upcoming events.
#GoRedLA
Facebook - Twitter - Instagram | @americanheartla
**Thank you to my guest...the AWESOME Dr. Kathy Magliato of Saint John's Medical Center in Santa Monica...find out more about her, here: http://www.kathymagliato.com/biography/ WE hope to see u Thursday night!
Listen to the full interview below: