"WE GET TO SERVE"
The Dream Center is a faith-based charitable organization that finds and fills the needs of struggling people from all over the United States. Since 1995, thousands of individuals and families have found hope and healing through the programs that only the Dream Center offers. The Dream Center aims to not only meet the immediate needs of communities like providing food and clothing, but also focuses on the full successful transformation of people's lives, all free of charge.
Our mission is to connect broken people to a community of support by offering free resources and services that address immediate and long-term needs in the areas of poverty, addiction, and abuse. The Dream Center serves as a resource center focused on finding solutions to homelessness, hunger, and the lack of education through residential and community outreach programs.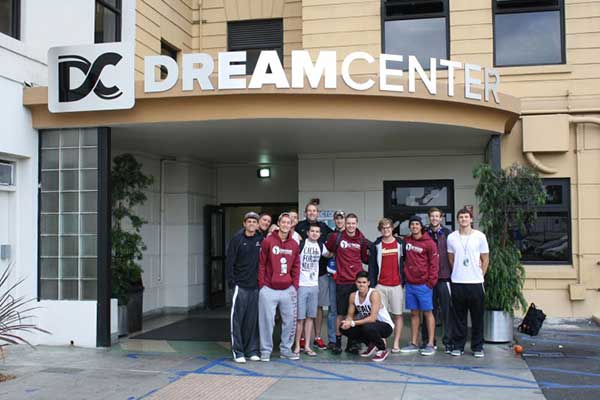 **Thanks to my guest Kelli Bradley of the Dream Center LA...we discussed their history, their programs, who they help, how folks can get help & also volunteer...get more involved with helping those in need, especially our homeless Veterans...male & female...we also talked about this huge fundraiser below with iHeart Radio...
AM 570 LA Sports, Los Angeles' Dodgers radio station, announced today the 11th annual Help-A-Hero Radiothon will take place on Wednesday, December 12th from 11am-7pm. The on-air fundraiser will benefit Dream Center LA, a faith-based charitable organization that finds and fills the needs of struggling people in the Los Angeles area.
Suggested donations will start at $49 and listeners can donate by calling 818-524-2930, online, on the phone by texting "Veterans" 707070 or by visiting dreamcenter.org/hero. Dream Center LA will use raised funds to provide local veterans with a home, education and job assistance.
Celebrities including Los Angeles Dodgers Justin Turner and his wife Kourtney, alongside the AM 570 LA Sports team will accept donations through the phone bank. Throughout the radiothon, listeners will have the chance to win once-in-a-lifetime experiences including: throw the first pitch at a Dodgers game, take a ride in the Goodyear blimp, go behind the scenes during FOX Sports Radio's The Herd with Colin Cowherd, attend a Dodgers batting practice, go on the field before a Chargers or UCLA Bruins game, ride a Zamboni at a Kings game and attend a show at the iHeartRadio Theater in Los Angeles.
To donate & find out more, click here: https://ihr.fm/2zKGYGv