A Place Called Home first swung open its doors in 1993 – a year after the LA Unrest, amidst a crime epidemic that rendered the streets of South Central unsafe for children of any age. APCH's mission was simple, but wrought with challenges: to provide the gang affected youth of South Los Angeles with a safe haven away from the life threatening dangers and temptations of the streets.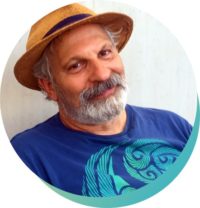 APCH became a refuge for our members, a safe place where teens could relax, do homework, and hang out with friends. It was a place to be accepted and to be a kid. What started with a dozen youngsters on the first day quickly grew to hundreds.
Over the past 25 years, a dynamic youth and community center has evolved from those humble beginnings. Today, APCH delivers a replete array of services to youth ages eight to mid-twenties and their families, empowering and inspiring them to self-reliance and ownership of their own lives. Every day we serve hundreds of young people and their families with educational and artistic programs, counseling, mentorship and pathways to a bright future. At our core, we are still a place where young people who face tremendous challenges can experience the joy, laughter and safety that should be a part of every childhood.
We have had the privilege of serving more than 20,000 young people and families over the past 25 years. We will continue to grow locally and regionally, and with your help, we will serve twice as many youth and families over the next 25 years.
We commit our resources to the young people and families of South Central Los Angeles and the community as a whole. Our holistic approach allows us to make a deep impact and provide a platform for the next generation to pursue healthy, productive lives.
At A Place Called Home, we respect WOMEN. We value BLACK LIVES and ALL LIVES. We embrace LGBTQIA COMMUNITY MEMBERS. We welcome IMMIGRANTS and REFUGEES. We stand with ALL PEOPLES OF ALL ORIGINS and we support PEOPLE OF ALL FAITHS based on love and acceptance.
Become a Mentor
Lead

Inspire

Foster

Empower:LIFE Mentoring
APCH provides a safe haven that offers educational programs, counseling, music, dance, and art classes to hundreds of young people every day. In 2013 we expanded our holistic approach by providing youth members with a comprehensive mentoring program. Our LIFE Mentoring program presents opportunities for enrichment, exposure, support and guidance through supervised one-to-one relationships between our members and caring adults.
Thanks to my guest Ex Dir JONATHAN ZEICHNER for coming on and sharing the vision of APCH and all the sweet kids they help EVERY DAY...find out more & how u can get more involved here: https://apch.org/