7/20 Help Stop the Bully...Moon Joggers for charity...
"Stop the bullies, stop the pain"

HELP STOP THE BULLY is a foundation determined to take back control from the bullies, help keep America's kids and adults safe, and implement a creed for everyone to follow.
The "Help Stop The Bully" foundation has created an educational program to implement in schools nation-wide, called PBNJ. Additionally, HSTB founder actress/singer Christina Fulton has partnered with prominent UFC & MMA fighters on developing a self-defense program. Christina has also joined forces with TapOuT, with whom "Help Stop The Bully" will be launching an exclusive line of clothing AND a Help Stop the Bully AP
Thanks to my guest HSTB founder Christina Fulton, who came on to discuss their mission/goals and this fundraiser at the HOB to raise $$ and awareness...
http://helpstopthebully.jimdo.com/
Lisa Foxx Introduces CEO/Founder of Help Stop The Bully Christina Fulton who talks about how the organization got started
Christina talks about bringing self defense classes to Physical Education
Lisa & Christina talk about her event at the House Of Blues
---------------------------------------------------------------------------------------------
We ♥ RUNNING! READY FOR A CHALLENGE?
We invite people from all over the world to become a Moon Jogger and join this incredible running community as we journey through space. While our goal is to get to the moon, each individual Moon Jogger chooses their own personal goals for the year. We are looking for people to join our expedition to walk, jog and run to the Moon! We want YOU! We want people of all fitness levels and of all ages! Also join us to run for various charities including supporting Perry's run! New Zealander Perry Newburn, an ultramarathon runner and Moon Jogger, officially announced his attempt at the World Record record for running from New York to Los Angeles in the shortest time, a distance of approximately 3,100 miles. Newburn plans to begin his run at the New York City Hall on September 1, 2014 for 2 charities...learn more and support Perry here: http://www.moonjoggers.com/perry-run-america/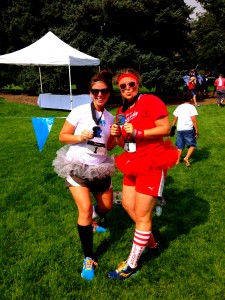 How did this begin? Two sisters, ANGIE& ASHLEY, set a goal to run 1,000 mile each in 2013. Then they decided to open it up to their friends and family and invite them to participate in the challenge! It was just the beginning of something exciting and a ton of fun! They started searching for people all over the world to run with them to the MOON for 2013! Goal Accomplished! There are participants from more than 40 countries around the world and growing! We would love to have you part of this fun running community! It is perfect for beginners, people that just love walking, jogging, or running, and competitive marathoners… and everyone in between! We invite you to join us in our journeys!

Thanks to my guest Moon Joggers Co-founder Angie Webb who told their story and how they are inspiring folks of ALL fitness levels ALL over the world to RUN TOGETHER! Encourage each other...cheer each other on and even raise $$$ for various charities...find out more here:
Lisa introduces Angie Webb who talks about Moon Joggers which helps people reach their physical goals
Angie talks about the charities that are involved in Moon Joggers