Miley Cyrus Defends Selena Gomez After Stefano Gabbana Calls Her 'Ugly'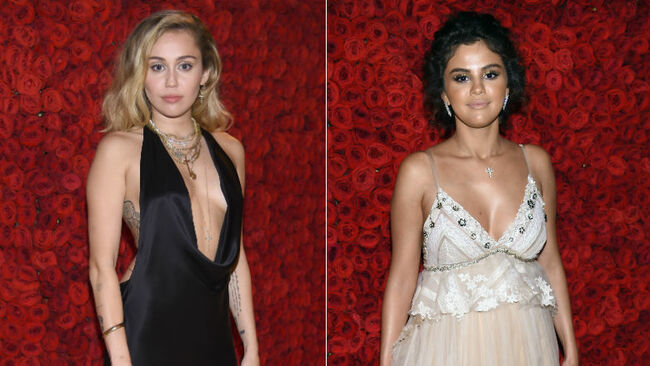 Miley Cyrus is not taking lightly to Stefano Gabbana's controversial comments about Selena Gomez, where the co-founder of Dolce & Gabbana reportedly called the pop titan "ugly," and she stood up for her former Disney peer on Instagram.
Earlier this week, Cyrus took to Instagram to hit back at the big-time designer after he responded to a post by @thecatwalkitalia with five photos of Gomez, writing, "È proprio brutta!!!" For those that don't know Italian, that roughly translates to "She's really ugly." Gabbana took things a step further when he agreed with another user, who said that the singer/actress "looks like a Pomeranian dog."
"Well what the d*ck head said (if it's true) is f**king false and total bull s**t," the 25-year-old chart-topper responded to an old school photo of the pair. "She fine as f**k."
It's certainly not the first time that Cyrus has gone head-to-head with Gabbana. Back in 2017, she took to Instagram to congratulate her younger brother, Braison, on his debut at Dolce & Gabbana's Spring 2018 Milan Fashion Week show, but she also made sure to sneak in her thoughts regarding the politics behind the fashion big-wig. "Congrats @braisonccyrus on walking in your 1st runway show," she wrote. "PS D&G, I STRONGLY disagree with your politics.... but I do support your company's effort to celebrate young artists & give them the platform to shine their light for all to see!"
If Cyrus was interested in a response, that's exactly what she got when Gabbana reposted her post and shared his own comments on the matter. "We are Italian and we don't care about politics and mostly neither about the American one! We make dresses and if you think about doing politics with a post it's simply ignorant," he replied. "We don't need your posts or comments so next time please ignore us!! #boycottdolcegabbana."
Unfortunately, for Braison, his sister's comments might have just cost him any future runways in the Dolce & Gabbana realm. "For your stupid comment never more work with him," Gabbana reportedly wrote in another comment.